Taglit Festival by Fishka Productions 2012
Modern Israeli Culture Festival for Taglit-Hillel program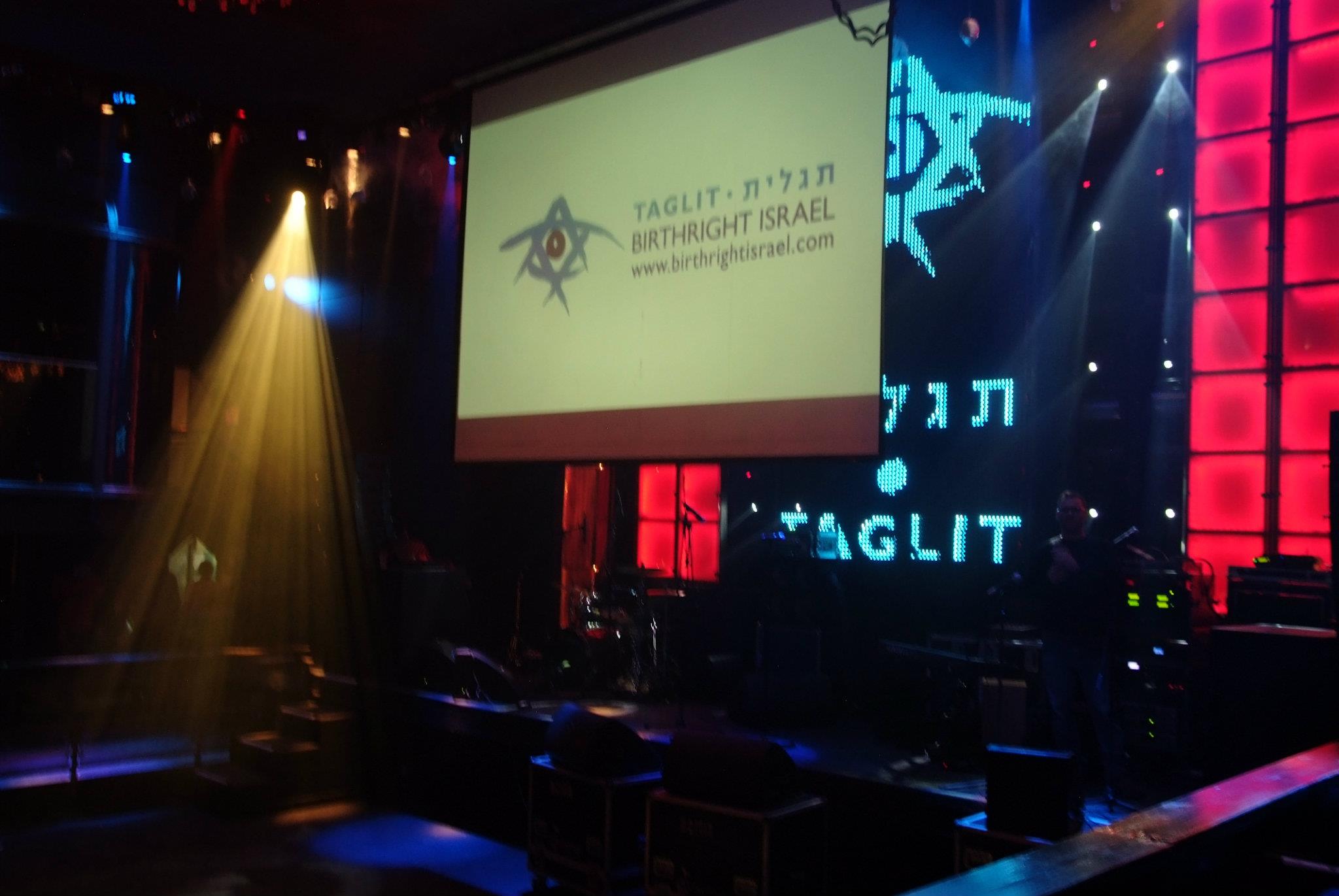 Fishka productions has organized and successfully managed a major event - special festival of Modern Israeli Culture for the participants of Taglit-Hillel program. The event took place at the fashionable Tel-Aviv Oman-17 club.
The festival was set up as a multidiscipline affair, in which young and talented artists, musicians and fashion designers presented their works and artistic vision to Taglit members.
The purpose of the event was to expose young Taglit participants to the interests of the Israeli young, as well as to show successful Russian-speaking israelies' works from various fields.
The festival focused on five fields of modern Israeli culture: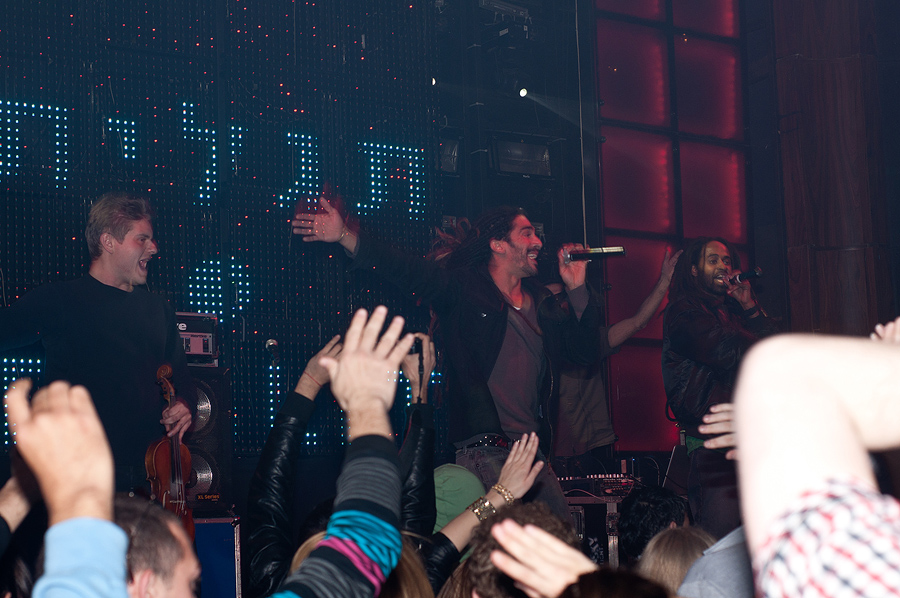 Modern Israeli music
Fashion
Street Art
Theater and Literature
Jewellery Design
Each Taglit program participant was invited to choose the discipline that interests him the most and dig deeper into it, as well as meet extraordinary people from all presented disciplines.
Artists to have taken part in the Festival are:
Marsh Dondurma - 12 musicians from Jerusalem that mix traditional music from around the world with the heritage of Jazz and Funk. Trumpets, trombones, saxophones, a sousaphone and percussion playing together.
Ramzailech -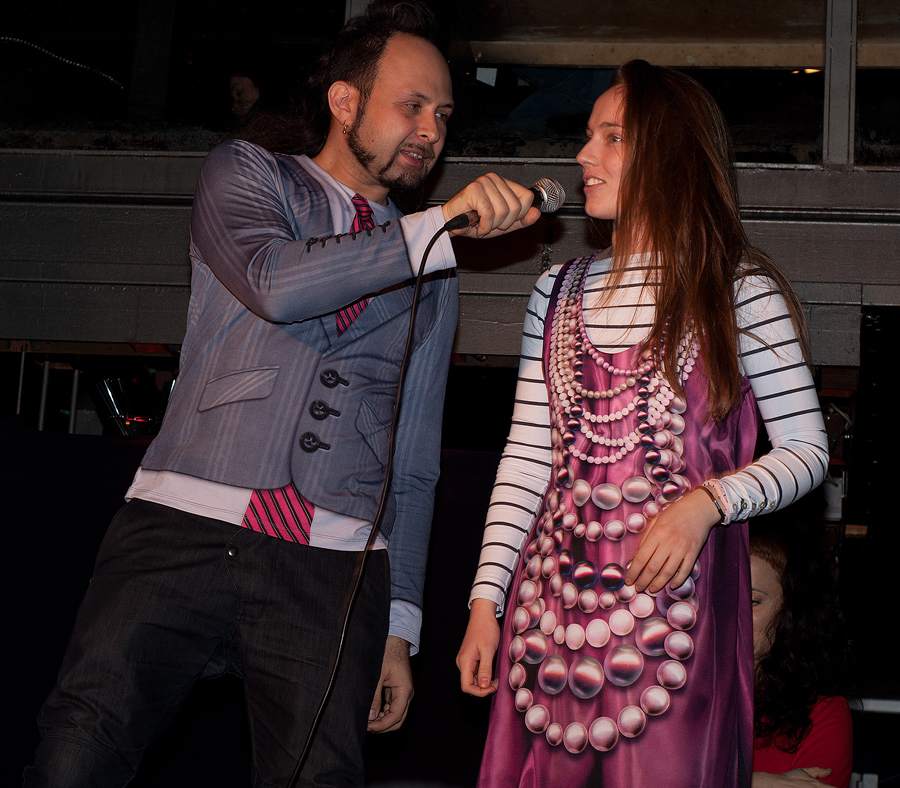 Hardcore Klezmer band, performing in Yiddish.
Kamila - Azerbadjan borm indie jazz performer.
Axum - one of the most interesting music groups on Israeli scene. It's music blends Ethiopian, Yemenite and Israeli music with rythm of hip-hop and reggae.
Boom Pam - Tel Aviv based band Boom Pam formed in 2003, plays a mixture of Mediterranean, rock and surf music in a format of a unique power trio consisted of Electric Guitar, Tuba and Drums. Boom Pam have been playing in Clubs, Bars, Live Venues and Music Festivals.
Frau Blau - The couple Helena Blaunstein and Philip Blau Founded their label in 2002 in Tel Aviv, and immediately established themselves as avantgarde artists. The idea behind the Frau Blau label is quality fashion with a humorous twist and escape from the ordinary. Each collection is surprising and is loyal to the brand's philosophy – create a high valued fashion with a unique atmosphere and a deep and optimistic view of life. Frau Blau developed unique technique of printing on fabric called "Trompe l'oeil". Helena and Philip were awarded the 2007 prize of design from Israel's Ministry of Science, Culture and Sport.
MC Goga - one of the leading figures of the Israeli drum'n'bass scene. Leader of Los Caparos, a ska-reggae-dub playing cosmopolitic band from Tel Aviv.
Roy Hen - writer, translator. Roy was born in the family of Morocco immigrants in Israel. At the age of 17 he started immersing himself in Russian culture and has fully mastered Russian language. Translated to Hebrew works of Harms, Dostoevsky, Bunin, Pushkin. Works as head of Literature Department at Gesher theater in Tel Aviv.
VJ ASIA - a popular Tel-Aviv VJ.
DJ SCHOOLMASTER - His real name is Ophir Tal and he is a known as one of the DJ's of the legendary Tel Aviv group "The Apples" (Ha-Tapuhim). Is also a popular funk DJ.
KLONEYOURSELF - born in Harkov, Ukraine, now residing in Tel-Aviv. His work is dealing with memories , his own and the ones he manages to collect in everyday life from surroundings , if its his childhood in USSR or the coming to Israel, if its the layers of the city , walls crumbling apart and graffiti covering and being covered, people getting old and the new generations appearing every moment.
Gregory Larin - jewellery designer, he creates his works through experimental installations as well as classical jewellery all dealing with the subject matter of body, cadavers, and limbs questioning our perception, in the artists own language.
The Taglit Festival has been made possible by the support of Genesis Philanthropy Group. Production and Organization: by Fishka.
---
Recommended Links: Festival Photo Gallery