About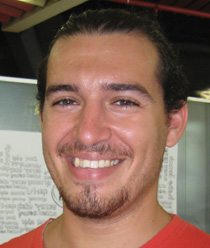 Alexey Tashaev
"Art Of Time","Literature Workshops"
Alexey (Yossi) immigrated to Israel with "Naale" program in 2001 from Russia (Ural), lives in Tel Aviv . Recently graduated from Seminar Hakibutzim College, theater acting department.

Currently Alexey works in the Children's Theater and prepares an independent theatrical performance with a groups of friends. Writes and composes songs, initiates musical projects and engages in social activities in Retirement homes.

At Fishka Alexey coordinates a social project Art of Time in Retirement homes. Also he turned his plan into reality when he pitched a Hebrew Poetry Workshop in cooperation with Bina center.